The mission
Choosing Wisely Canada is a campaign to help physicians and patients engage in conversations about unnecessary tests, treatments and procedures, and to help physicians and patients make smart and effective choices to ensure high-quality care.
62% of Canadians agree that there is a significant amount of unnecessary care in the health care system.
To date, 45 different medical and surgical specialties have joined the Choosing Wisely Canada campaign, representing over 90% of physicians in Canada. Societies representing these specialties have developed evidence-based lists of "top 5" tests and treatments for which there is strong evidence of overuse, waste, or even possible harm to patients.
92% of Canadians believe patients need more support to know which services are really necessary for their health.
Over 150 physician recommendations have been released across this wide spectrum of specialties. Over 25 corresponding lay language patient materials have also been released to help facilitate the conversation with patients.
68% of Canadian family physicians agree that more tools are needed to help them make decisions about which services are inappropriate for their patients.
For more information on Choosing Wisely Canada, and to view all physician recommendations and patient materials, please visit our website, ChoosingWiselyCanada.org. To browse our recommendations and patient materials with ease, download our mobile app by searching for "Choosing Wisely Canada" in your Apple App or Google Play store.
More is not always better philosophy & approach
Since the launch of Choosing Wisely Canada in April 2014, significant effort has gone into educating physicians and mobilizing the health care provider community to adopt the published recommendations. And these efforts are beginning to pay off as impressive results are beginning to emerge across different clinical settings across Canada.
However, these provider-driven efforts are not enough. There is evidence suggesting that patients also play an important role in driving unnecessary care. In fact, in a recent survey of Canadians conducted by Ipsos Reid for Choosing Wisely Canada, 67% of respondents said that "patient demands are responsible for more unnecessary use of health services than are decisions by physicians". Clearly, the perception that "more is better" needs to be addressed.
The More Is Not Always Better campaign will do the following:
Promote the message that in medicine as it is in life, "more is not always better".
Educate patients about when they might need a particular test or treatment, and when they don't.
Encourage patients to talk with their doctor about unnecessary care.
Choosing Wisely Canada
Download the full document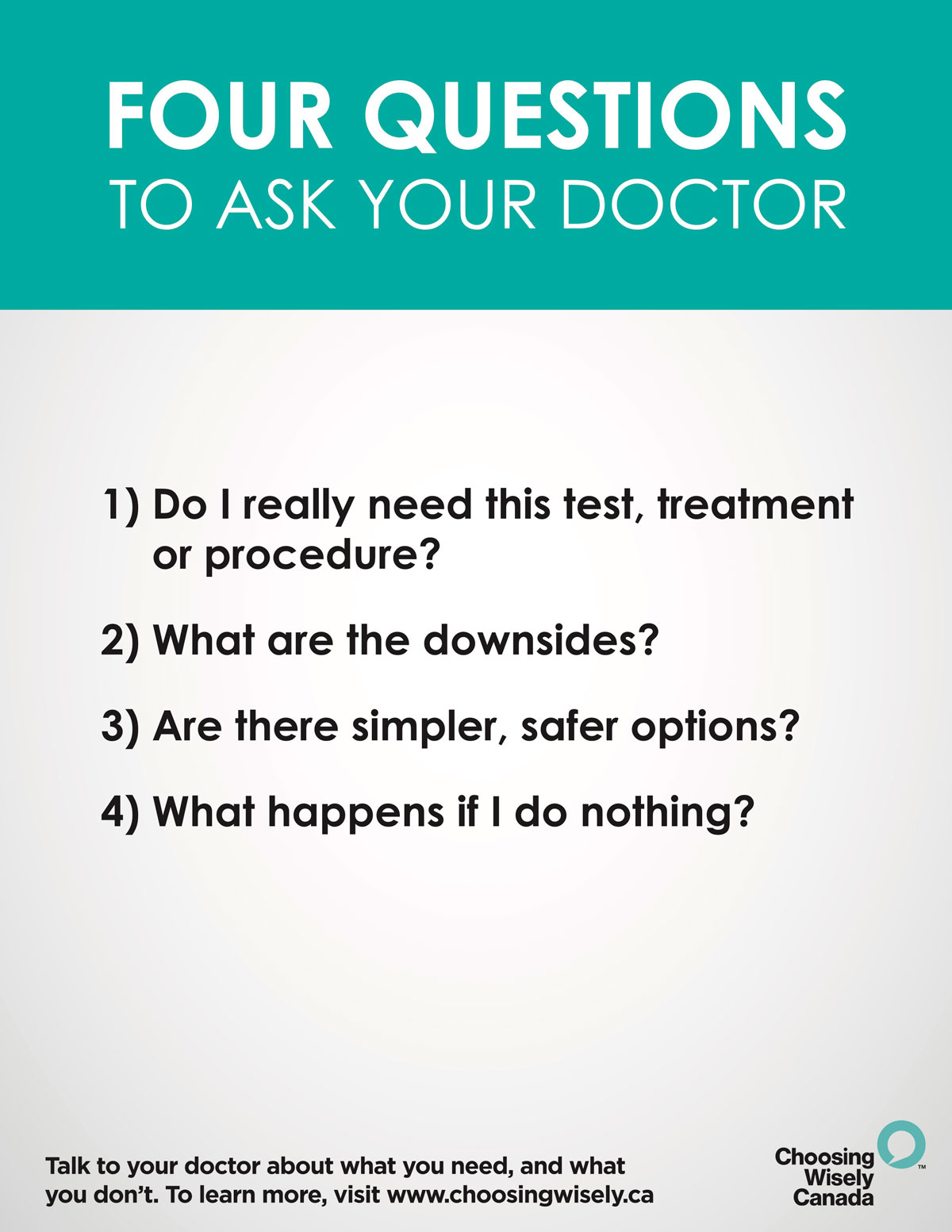 Eleven things Physicians and Patients should question