The Diagnostic Imaging Departments are linked to NORrad's Picture Archiving Communications System which continues to improve the delivery of patient care in all respects. Radiologists provide readings within 24 hours, and in the case of emergencies, results can be provided within 1 to 2 hours – a much faster turnaround time than previous technology allowed!
Taking care of in-patients, out-patients as well as emergency cases, Diagnostic Imaging are  on-call after regular hours for emergencies.
With the emergence of COVID-19, we have had to make some changes to our out-patient services. Moving forward, out-patient services for radiology must be requisitioned by the referring physician's office. The hospital will then contact the patient directly to schedule an appointment. Should you receive a requisition,  you can call us or fax it to the number indicated below.
Results will be communicated to you via the referring physician. Any inquiries regarding your results must be directed to the referring physician's office.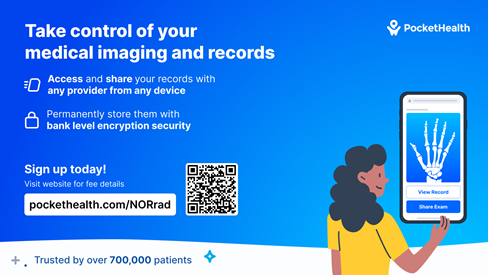 Access your medical imaging and records online with PocketHealth!
 MICs Group of Health Services patients can now access, store and share their medical imaging and records by using PocketHealth! PocketHealth is a secure, online platform that allows patients to access their medical imaging records as soon as they are finalized anytime and with any device.
PocketHealth benefits:
Instantly access your medical imaging records anytime, on any device.
Easily understand the complex terminology in your reports with PocketHealth's Report Reader.
Share your imaging in full diagnostic quality with your physician or specialist.
Permanently and securely store these records so they're always available to you.
Upload older imaging from CDs or USBs so you have all your imaging records all in one place.
 How to get PocketHealth: Go to www.pockethealth/en-US/norrad and complete the online request form.
There is a fee at the time of enrolment which includes permanent access to all previous imaging as well as any new exams.  PocketHealth has two membership options: Flex ($10/month, cancel anytime) and Unlimited ($49/year).
Both plans give you:
Unlimited imaging record requests from any of the 600+ PocketHealth-connected
hospitals and clinics.
Up to 4 additional profiles to manage all imaging records, all in one place.
Lifetime permanent storage for all imaging records.
Ability to cancel anytime and continue to access and share your imaging records,
from any device, without incurring any additional charges.
Plus, with Unlimited you can securely store and share any past imaging from CDs and any health records, including lab results, prescriptions and vaccine receipts.
 Have a question?
Please call PocketHealth directly at 1-855-381-8522, email help@pocket.health or visit www.pockethealth.com to learn more.